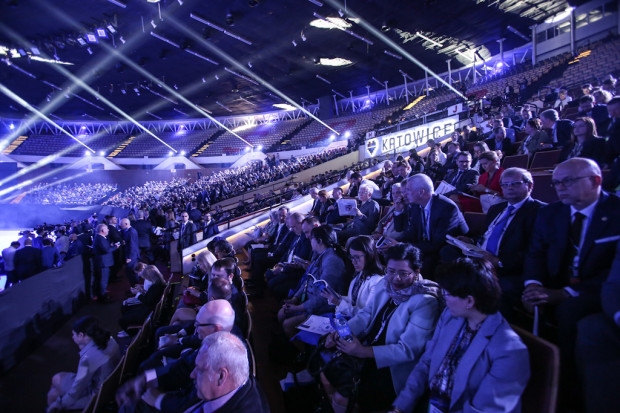 Business, largest companies, corporations, enterprises and start-ups at the European Economic Congress 2019 will be represented by their heads and board members.
The world of business at the 11th European Congress will be represented by: Brunon Bartkiewicz, President of ING Bank Śląski; Dominika Bettman, CEO of Siemens; Andrzej Blikle, Leopold Kronenberg Banking Foundation; Marcin Chludziński, Chairman of the Board at KGHM Polska Miedź; Grzegorz Chłopek, President of Nationale-Nederlanden Powszechne Towarzystwo Emerytalne; Maurice Dezou, West Africa Consultant International Business Festival; Robert Dobrzycki, CEO Panattoni Europe; Sonia Draga, President, Editor-in-Chief at Wydawnictwo Sonia Draga; Grzegorz Dzik, CEO of Impel; Frédéric Faroche, CEO, Veolia Group in Poland; Adedayo Idowu, partner at Olajide Oyewole LLP, Lagos, Nigeria; Ernest Jelito, CEO of Górażdże Cement; Stanisław Kluza, Collegium of Economic Analysis at the Warsaw School of Economics, former Minister of Finance and Head of the Polish Financial Supervision Authority; Arkadiusz Krasnodębski, Managing Partner, Head of Denton's energy practice in Poland and Europe; Ania Kruk, co-founder at Ania Kruk; Julia Krysztofiak-Szopa, CEO of the Startup Poland Foundation; Adam Krzanowski, CEO, co-owner Nowy Styl Group; Paweł Łojszczyk, Managing Director, ABB; Jowita Michalska, President of the Digital University Foundation, Singularity University of Warsaw; Josephine Ojiambo, Founder, Peter Ojiambo Foundation, Former Deputy Secretary-General of the Commonwealth, former Permanent Representative of the Republic of Kenya to the United Nations; Nicolai von Ondarza, Deputy Head of Research Division, Stiftung Wissenschaft und Politik; Henryk Orfinger, founder, co-owner, CEO of Dr Irena Eris; Krzysztof Pawiński, CEO of Maspex Group; Adam Pers, Deputy Chairman of the Board for Corporate and Investment Banking, mBank; Magdalena Rogalska, Member of the Board, Head of Corporate and Investment Banking at Deutsche Bank Poland; and Arkadiusz Rudzki, Managing Director, Skanska Property Poland, among others.
The European Economic Congress in Katowice consists of three days of debates, meetings and accompanying events. Its panels focus on the issues of utmost importance for the growth of Europe, analysed from both the local and the global perspective. The chief thematic areas of the 11th European Economic Congress in Katowice include: "Europe from scratch", "Digitization and new technologies", "Industry, investment and infrastructure", "Energy and climate", "Financial market". This year, the greatest business event of Central Europe will be even more closely integrated with the accompanying European Start-up Days, a two-day event that serves as a platform for open dialogue between start-ups, investors and business support organizations.
The 11th European Economic Congress in Katowice will also be accompanied by the EEC - Leaders of Tomorrow project, which aims to shape and promote active citizenship and increase the engagement of young people in public life, the awards ceremony for the TOP Communal Investments and Investors without Borders contests, as well as the international business meetings: Central Europe - Africa, Poland - Latin America, Poland - China and Poland - ASEAN.