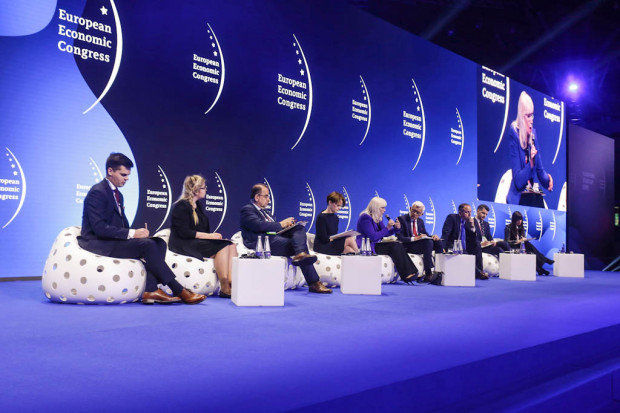 The urgent need for profound change, an experimental phase. Problems, but not a crisis. A deficit of confidence and understanding, a weakened spirit of cooperation, changes in the world bringing about a mixture of opportunities and threats. The loss of and search for a new (or perhaps a revival of the old) European identity. This is the image of the European Union which has emerged from the opening debate of the 11th European Economic Congress.
"Is democracy, a free-market economy, and peace, a set of values which are no longer enough for us?" asked Jerzy Buzek, Member of the European Parliament, Chairman of the EEC Council, when moderating the discussion. "Do we need something new?"
Iveta Radičová, Slovakia's Prime Minister 2010-2012, in response to the issue as presented above, identified core areas of conflict and European challenges. "Average citizens would not feel that a good macroeconomic condition positively affects their living conditions. Europeans are contesting the functioning of democratic institutions, they have lost their confidence in elites, and the elites do not understand how the policies they create are perceived".
Luca Jahier, President of the European Economic and Social Committee, defined change as the implementation of a "new European revival – with a search for a new-old identity, with more confidence in technologies and with optimism.
The European Union needs profound reform beyond the horizon of the generation now active in politics. This is a thesis and postulate of Jadwiga Emilewicz, Poland's Minister of Entrepreneurship and Technology. Change is to be based on the renewal of treaty standards and values underlying the EU. This primarily involves economic cooperation and the free market.
Konrad Szymański, Secretary of State for European Affairs in Poland's Ministry of Foreign Affairs, warned against those who were "waving the European banner", and in fact acting against European rules, questioning the free market, supporting particularisms.
The young people invited to the debate – Kamil Baran, President of the European Law Students' Association ELSA Poland, Julia Grzybowska, Young Diplomat Forum Association, Patrycja Serafin, Chairwoman of the Students' Association, and Maciej Tomecki, Cambridge University, asked no easy questions of the experienced politicians. They asked, inter alia, whether Europe can overcome the crisis and become stronger, about the responsibility of citizens and politicians, ways of how to handle a frantic rate of change, and a deep erosion of trust in elites. They proposed to reinforce democracy as a way to expand the participation of Europeans in the changes under way, and they noted that globalisation did not act for the benefit of Europe, and the most-attractive jobs "are running away to Asia". They all stressed the too-little knowledge of the rules of how the EU functions, of the benefits, and the duties resulting from membership.