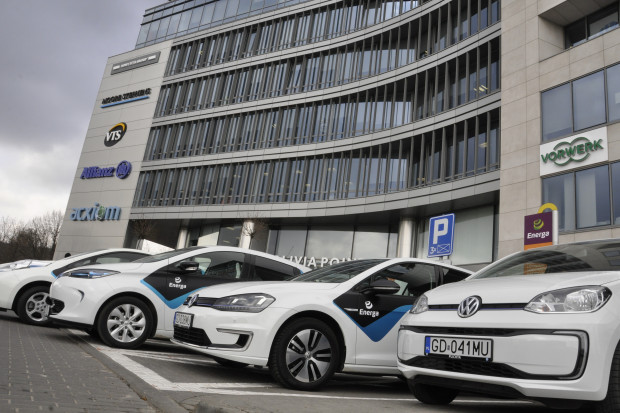 Speaking of the future of motorization, we see it through the prism of basic megatrends - electromobility and autonomous driving. Much less attention is devoted to another phenomenon - car manufacturers are saying that... they no longer want to manufacture cars.
What will the autonomous cars of tomorrow look like? Initially, they will probably imitate the appearance of the cars we are accustomed to.
The development in cities will be driven by public transport and sharing of individual vehicles, and in the suburbs we expect family cars with greater range and batteries.
Objections resulting from liability for any damages caused by an autonomous vehicle hold back the trend, but they will not stop it.
The young generation wants to be mobile, but owning a car and incurring the costs of its maintenance cease to be "trendy". Most manufacturers notice changes occurring on the automotive market and prepare to expand their offer or - more precisely - build it from scratch with a strong service component.
- We want to become the preferred worldwide mobility service provider by 2030 - declared
Jean-Francois Salessy
, R&D senior vice president, PSA Group, at Huawei Eco-Connect Europe 2018.
One of the measures under the new mobility is the Free2Move Paris service launched in the first days of December in Paris. 550 electric cars - Peugeot i-On and Citroen C-Zero - were given to residents and tourists. Cars will be available 24 hours a day, seven days a week. You can order them for minutes and pay through a smartphone app. PSA has been providing this service for two years. It is currently available in 33 cities in 12 countries. These services also include the use of scooters.
Battery on wheels
Similar programs are also launched by other car manufacturers. It must be admitted that this is not the result of a reluctance to manufacture cars, but adaptation to the expected changes occurring on the market. The direction of development will probably determine the places where vehicles will be used.
The development in cities will be driven by a trend towards the use of public transport and sharing of individual vehicles, and in the suburbs, where constant access to vehicles is important, we expect family cars with greater range and batteries. It should be remembered that according to today's forecasts in 2030, 60-70 percent of the population will be living in cities.
Electric cars may have another advantage in the suburbs and small towns - they can serve as an energy storage for single-family homes. According to automotive companies, the energy stored in an electric car for a single-family home is enough for three days of normal use of equipment.
An automotive battery will therefore be able to serve as an emergency power supply in the event of power outages, as energy storage stabilizing the grid with a large number of prosumers producing energy from RES (household wind turbines or solar panels on roofs), and finally, they can serve as another form of savings for owners who can charge a battery on a day when electricity is cheaper, if only due to the operation of solar panels, and use it in the evenings to power the house.
Of course, this approach requires the creation of an entire system that allows to use cars as a power source.
Recently, one of the German energy operators, Amprion, has started cooperation with Nissan on a Vehicle-to-Grid (V2G) project, which envisages returning electricity from Nissan Leaf battery packs to the grid. The Netherlands will soon launch a project involving the inclusion of 25.000 Mitsubishi Outlander PHEVs into the grid.
Since the end of November, a model installation has been operating in Yokohama, where Leaf is used as an energy storage for a house powered by energy from solar panels placed on its roof. A similar system allowing for a two-way energy flow between the house and the car was also recently shown by Honda.
Car request
Shared vehicles will have the greatest importance in the future city centres, whether it is car sharing or ride hailing. In the first case, we deal with car rental for minutes, and in the second - using a service that consists of travelling by car with a driver.
For the time being, the latter form of transport seems to be completely set aside by the operation of companies such as Uber, an informal taxi corporation. The preferred way of transport would be to share a ride in a vehicle traveling in the same direction.
First functional checking of the system in several big cities in the US showed that, contrary to expectations, these companies not only did not reduce traffic in the centres but they actually increased it. Research shows that cars belonging to Uber and other companies circulating in cities are used mainly by passengers who used public transport before, who liked the fact that they can request a car for a specific time in a specific place - without stops (as in the case of a bus) or parking breaks (as in car sharing).
Car owners would still like to drive everywhere themselves. Further restriction of entry to the centres, increase in parking fees, reconstruction of cities aimed at guaranteeing more space for people rather than vehicles will change these habits, but we still have to wait.
It seems that over time ride hailing will have more importance in the suburbs, where people will travel towards the public transport station, going downtown, and city centres will be dominated by car sharing, based on autonomous vehicles that can approach the waiting passenger and then move on to the next one or drive in a parking lot outside the centre.
Cablecars on the streets
What will the autonomous cars of tomorrow look like? Initially, they will probably imitate the appearance of the cars we are accustomed to, just like the prototype Renault EZ-GO - a completely autonomous car that does not have the traditional seating layout. There is an entrance on one wall and comfortable benches beneath the others. In addition, there is a navigation system panel, luggage space and charging points for smartphones.
Ergonomic criteria will probably result in the fact that future taxis without drivers will resemble cablecars. If the predictions of total elimination of traffic accidents after dominance of autonomous cars, consulting their routes and subsequent manoeuvres in the cloud, prove successful, crumple zones will no longer be needed, especially in the case of city cars that will move at speeds below 50 km/h. Second of all, crowded city centres will need lots of space, so every centimetre "wasted" on unnecessary roundness of a car will matter.
The prototype Renault EZ-PR is probably closer to the real car of the future - delivery trucks that are supposed to deal with the so-called last mile transportation, when the goods are repacked from large trucks or railway wagons and have to be transported to the city centre. Autonomous platforms were designed in two versions - manned and unmanned. The first one resembles the current vans, while the second is a freight wagon.
What about the interiors? The steering wheels will become unnecessary - if there are any vehicles driven by a man in the future, the drive-by-wire technology will allow to discontinue them. This technology eliminates the mechanical connection between the steering wheel and the steering axle of a car. Replacing the steering column and transmission with electric motors and a cable will replace the steering wheel with a type of joystick or trackball or other elements associated with computers.
An example can be the prototype Toyota Concept-i Ride, which is controlled by the movable tips of the armrest. It is a short vehicle intended to move in crowded city centres, similarly to Concept-i Walk. Its aim is to allow a passage from a parked car to the destination (or be a means of transport used in pedestrian zones). It works a bit like an electric scooter.
The prototypes of Toyota still use "human driving". Mercedes F 015 has a steering wheel, but when the autonomous mode takes over, it allows you to change the interior in a café seating layout with a table in the middle.
Volkswagen with its SEDRIC prototype appears to be closest to the concept of a "wagon on wheels". It uses sliding doors in a boxed vehicle. The materials used in the interior were also supposed to resemble home furniture. The plants placed on the cowl panel facilitate air purification inside the vehicle.
An unstoppable trend
Objections resulting from liability for any damages caused by an autonomous vehicle hold back the trend, but they will not stop it.
The fatal accident involving a woman walking across the road with a bicycle and an autonomous vehicle could not be avoided; even the fastest driver couldn't have done that. The requirements, however, are even bigger in the case of mobile autonomy - computer systems supported by lidars, thermovision and infrared cameras should see the woman and stop the vehicle. This barrier will soon be overcome.
The inevitability of changes is supported by information about the capital entries of large automotive companies in start-ups or smaller, specialized entities that deal with autonomous vehicles.
The Renault-Nissan-Mitsubishi Alliance has recently become the leading investor of the Chinese WeRide.ai company engaged in the development of Level 4 autonomous vehicles. Such vehicles are expected to perform even complex manoeuvres, and they will communicate with each other. Operating since 2017, WeRide.ai has carried over 3.000 passengers and its cars have driven over 60 thousand km as part of the tests. The company needed an investor to launch 500 cars and drive 5 million km next year.
Next year, WeRide intends to start commercializing its services in China on a large scale.
My car? My style?
The customers are still interested in the appearance of future cars, the industry responds with increasingly personalized cars. If I have to drive this car, I want to feel good in it and manifest my personality - say young customers.
When you order a car in the factory, you can choose many of its elements - body colour, wheel size, upholstery colour, equipment elements. Mass production of individual units is, to some degree, the current expectation towards manufacturers.
Who will pay such attention to details when the user and the vehicle rented for minutes have an emotional relationship similar to that with a shopping trolley in a hypermarket? Probably the same law, which causes the gas stations of individual corporations or fast food restaurants around the world to look similar, will start to apply so that the customer could feel safe in a familiar interior, using known procedures and systems of orders or fees.
Companies that rent cars for minutes will also unify them, just like New York or London taxis or even bus companies. The streets will be much less varied and colourful than today.
The material was printed from www.wnp.pl. © Polskie Towarzystwo Wspierania Przedsiębiorczości (Polish Entrepreneurship Support Association) 1997-2018