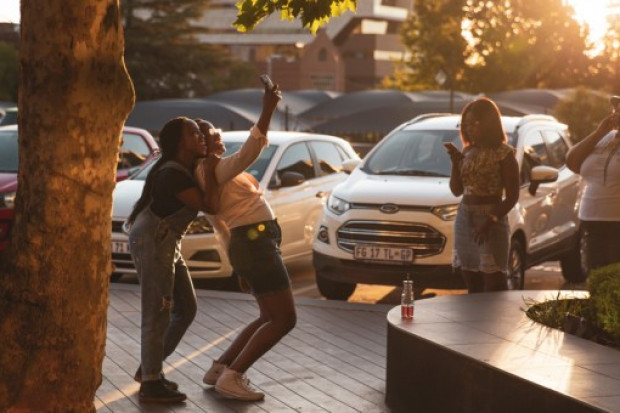 It's supposed to be cheap, with internet access and manufactured in Africa from scratch. In the first half of this year, everyone will be able to afford a smartphone from Africa.
A phone manufactured in Africa, by Africans, for Africans will cost between 20 and 25 dollars.
Operating system of the new phone will be powered by KaiOS technologies.
It turns out that there is a strong correlation between having smartphones and gross domestic product per capita.
A mobile phone on this continent is not a gadget or electronic device intended for talking and surfing the Internet. It's a determinant of material status. It is strongly desired by inhabitants of the continent, often given as a gift, on the occasion of successful transactions.
Poles who work in Africa often tell an anecdote about young people who walk on the streets with a broken device, because they cannot afford an efficient telephone, to cause jealousy among other people.
A smartphone for everyone
A phone manufactured in Africa, by Africans, for Africans will cost between 20 and 25 dollars. This product is supposed to result from the cooperation of two potentates - the South African telecommunications company MTN and the Asian giant China Mobile.
MTN has over 225 million subscribers in Africa, Syria, Iraq, Afghanistan and Yemen (the 11th largest mobile network operator in the world, the largest in Africa). It is the company that is responsible for the largest development of the Long Term Evolution (LTE) network on the black continent. MTN invests in submarine cables that increase network capacity, e.g. in the West African cable system (WACS), connecting the southern and western Africa with Europe, the Eastern Africa Submarine Cable System (EASSy), connecting the eastern coast of Africa (including South Africa) with Europe. The company offers e-commerce and digital services in the areas of music, finance and entertainment.
Operating system of the new phone will be powered by KaiOS technologies that specialize in creating a smart phone. The company based in California has so far recorded the largest growth in India.
The size of China Mobile (CM) can be represented by numbers: employing 230 thousand people, share capital of 80 billion dollars and almost 700 million customers. CM's partner is Chinese UNISOC. The company has been present on the African market for over 10 years. During this time, it sold 100 million mobile phones powered by UNISOC chips.
The company treats Africa as one of the most important markets. UNISOC will invest more resources in this continent, because CM is very satisfied with the cooperation with MTN and KaiOS, providing African consumers with their technical services.
This was evident at last year's AfricaCom, which gathered 14 thousand participants, 450 speakers and 400 exhibitors. CM, MTN, KaiOS and UNISOC presented their other mobile communication products and IoT devices (including household appliances).
The new MTN and CM phone provides its users with Wi-Fi, Bluetooth and Google connectivity, easy access to social applications. It also ensures longer battery life and is equipped with a front and rear camera. This constitutes an advantage on the market where power outages are very burdensome. At first, the device will be available in Nigeria and South Africa, then in 15 other African countries where MTN operates. The African media state that in order to ensure the sale of a new product, the governments of some countries should persuade officials of public institutions to buy phones.
Phone purse
In many African countries, one can use a phone to make transfers and shop online. This takes place in, among others, Nigeria, Kenya, Rwanda, South Africa or Senegal. For instance, the most popular financial service that requires the use of a mobile phone in Kenya is called M-Pesa (m as mobile, and pesa in Swahili means money).
The system was founded by Safaricom (that belongs to Vodafone), the largest mobile operator in the country. Thanks to M-Pesa one can use a phone to pay for: gas, water, food, car insurance, taxi. Almost 70 percent of adult inhabitants of this country uses this system to pay for everything, and 50 per cent of domestic GDP flows through M-Pesa each year.
Pew Research Center, a Washington think-tank, says that 41 per cent of surveyed respondents in Kenya declare at least sporadic use of the Internet. Half of the respondents used the Internet and have a smartphone. And 53 per cent declare that they use the Internet, have a smart phone and use social media. Kenyans are open to new technologies. That is why telemedicine, i.e. a remote treatment system using telecommunication, is successfully implemented in this country.
Three years ago, 89 per cent of South Africans had a mobile phone. Last year, the number of mobile phone users increased to 94 per cent. The number of smartphone owners also increased in South Africa - from 37 per cent up to 60 percent.
Access to smartphones raises GDP
The level of education and income plays a significant role in the use of technology in a given country. People with higher education level and income use the Internet more often than those with lower education level and income. The same applies to the use of social media.
For example, the majority of Nigerians with secondary or higher education levels use social media (58 percent), compared with 10 percent of Nigerians with lower education level. 65 percent of better educated Nigerians use the Internet, compared to only 12 percent of people with lower education. Gender does not affect the use of the latest technology. Men and women use technologies - smartphones, the Internet, social media - at roughly similar rates.
The popularity of smartphones is growing in emerging countries. There is a strong correlation between having smartphones and gross domestic product per capita. Nowadays, most people who use a mobile phone have chosen a smartphone. But that was not the case a few years ago. In 2015, 80 percent of people in these countries had a mobile phone of any kind, and 27 per cent had a smartphone. Meanwhile, in the last three years, smartphones started to constitute a much larger part of the used mobile devices (50%). In terms of increased demand for mobile services, by 2025 Sub-Saharan Africa will have the largest increase (by 8 percent) and 350 million new subscribers.