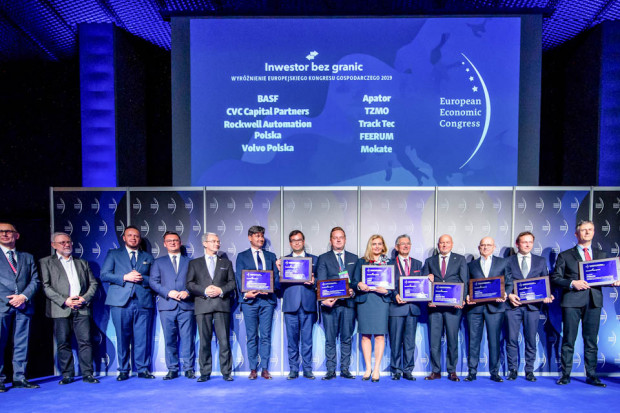 Apator, BASF, CVC Capital Partners, Feerum, Mokate, Track Tec, TZMO, Rockwell Automation Polska, and Volvo Polska - these are this year's winners of the title Investor Without Borders. The prestigious distinction was awarded at the European Economic Congress in Katowice.
The titles were awarded to the most-effective Polish investors pursuing foreign expansion, and to active, responsible, foreign investors in Poland, with a positive impact on the economy and the labour market. The awards were granted in two categories: Foreign investor in Poland and Polish Investor Abroad. The project is supported by the team of the economic portal WNP.PL, and the magazine Nowy Przemysł [New Industry].

As stressed at the ceremonial gala by Wojciech Kuśpik, CEO of the PTWP Group, and initiator of the European Economic Congress, the overriding idea of the Investor Without Borders project is to propagate model relations between investors, the market, and the administration.

The section criteria include, inter alia, the scale of the investments, their impact on the Polish economy's potential, and their innovative nature, as well as the importance of the investments for the Polish labour market, and for building the brand of Poland in the world. The candidates were nominated by representatives of business, local authorities, Government agencies, and institutions.

"Some time ago, at the location of the International Congress Centre, where the European Economic Congress is held, there was a mine, and coal was extracted. Now it is knowledge which is extracted, and new businesses set up. However, such businesses would not have been set up were it not for the courage of foreign companies which arrived here and made their investments. We are also happy with the successes of companies from Katowice, Silesia, and Poland, on foreign markets," said Marcin Krupa, Mayor of Katowice.